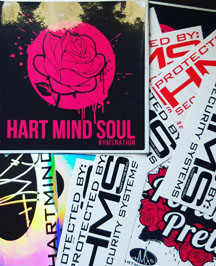 What is the turnaround time on custom printed sticker orders?
Custom stickers usually take about ten business days to be completed and shipped.
Can you make custom die-cut shape stickers?
Yes, the HMS nation offers specialty, die cut stickers available in just about any shape. Some restrictions will apply.
How much do custom stickers cost?
Each custom sticker order is processed individually. Your sticker quote will depend on the total quantity you print, the type of sticker vinyl you choose to use, the number of colors in the design, and the durability of the sticker itself.
What types of foil stickers does Hart Mind Soul have?
From Bumper stickers and quick print sticker options to high end industrial grade stickers there is something for everyone. Available on rolls or single cut you have many options to choose from.
Do you offer foil embossing on stickers?
The HMS nation does offer embossed foil sticker options. Sticker embossing is not available on all designs.
How long do custom stickers last?
Basic paper stickers will last about as long as they stay out of the elements. Extended life, waterproof, and Durable Bumper Sticker vinyl stocks will last for years. Ask about UV coating, lamination and vinyl coating options for even longer lasting stickers.
What are Waterproof, weather proof and extended life stickers?
Weather resistant, waterproof and extended life decals are an industrial grade sticker used for when you want your sticker to last. Engineered to last for years, these are the highest quality sticker available on the market.
Can I just buy a cheap paper sticker?
Yes, we do have affordable sticker options to choose from.
Can you print custom scents on scratch and sniff stickers?
Do you need a custom scent or scratch n' sniff stickers? Hart Mind Soul and the HMS nation can help. Scratch And Sniff Sticker Minimums begin at 20k units.
What is the smallest size sticker you can print?
The smallest size sticker we can print is 1.5 x 1″ however, we recommend at least a 2×2″ sticker for most designs.
What is the largest size sticker you can print?
We typically do not print anything much larger than 10 x 11″ however, we can often accommodate larger designs upon request.
Is there a standard size you can recommend for custom stickers?
4×4″ is a good size for stickers. When stickers are printed at the 4×4″ size they are large enough to still make a good visual statement but small enough to fit into a standard size mailing envelope. However, the best size for each custom sticker job will depend on the design and intended function of the product.