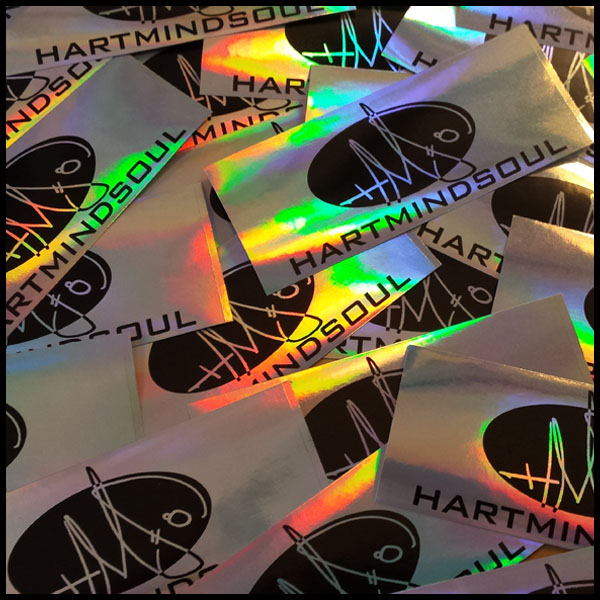 Where can I find a premium quality, holographic sticker near me? If you are searching for America's Best, iridescent foil and holographic stickers, just ask HMS. Because of our dedication to excellence, HMS national sticker distribution has endured the test of time.
Most importantly, is the value and customer service you receive when you shop Hart Mind Soul. Yes, you will buy Holographic Stickers with your company name or logo. And yes, you will get the highest quality, holographic sticker vinyl and screen printing possible. However, you also are helping to make the world a better place with each custom sticker order.
In addition to producing Americas Best Custom Stickers, HMS ships your order across the nation. Consequently, you can order custom holographic stickers anywhere in Oregon and have them shipped somewhere else in the USA. There are many additional benefits of choosing Hart Mind Soul and the HMS nation, but that is close to number one.
When you search Google for the Top 10 Rated Custom Sticker Companies in the nation, make sure to read our reviews. We understand that you are looking for the most affordable stickers and probably can get a deal from a local print shop out of someones basement.
However, if you want the best stickers in the nation, you will get what you pay for. Why not invest a little more and get a top quality, holographic sticker vinyl that your customers will be talking about for years? Remember, there is a reason that HMS is the national leader.
Finally, don't buy holographic foil stickers anywhere without getting a FREE quote from Hart Mind Soul. It will only take a few minutes and in the meantime you can read our awesome, Five Star custom sticker reviews. Click here to request your FREE estimate.