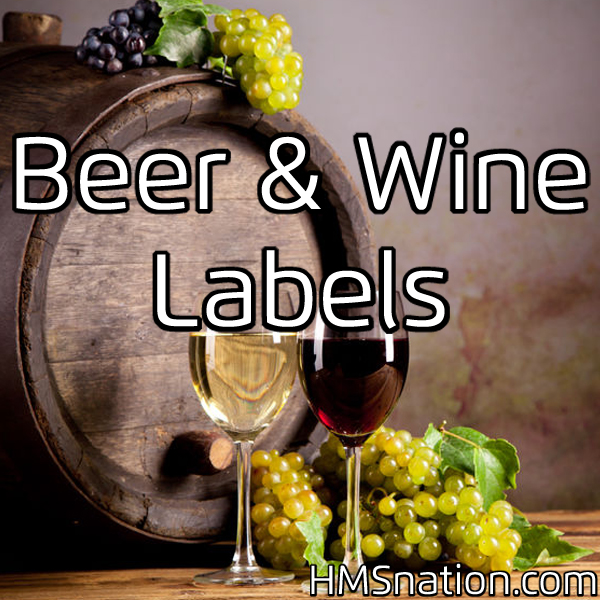 You may be surprised to know that Hart Mind Soul now prints custom beer and wine sticker labels! In addition to our high quality, screen printed stickers, you can now buy beer and wine labels. Many of our top clients are impressed by our affordable pricing for custom labels and fast turnaround times.
If you are starting your own beer or wine business, or simply making a few bottles on the side as a hobby, we are the best place for custom labels. Our custom label department is set up to accommodate both hand applied labels and machine applicable sticker rolls. Furthermore, you can rest assured that all of our custom labels are manufactured in the United States of America.
Because Hart Mind Soul has a reputation as being America's Best Custom Label company, we always stand behind our products. Go ahead, ask about custom embossed labels for beer or wine and see why we have so many Five Star reviews.
Do you want something a little fancier than your traditional food and beverage labels? Ask your sales representative about custom foil enhanced sticker labels for Beer and Wine. With a wide variety of Foil colors to choose from, you can really make your beer or wine bottles stand out from the crowd.
Consequently, if you are looking for a high quality, durable label for beer or wine bottles, we are the number one choice. Do you need additional help with marketing your alcoholic products? Request details on our digital adverting packages and custom screen printing options.
Finish strong and get the best custom labels you can buy for wine and beer bottles. Our graphics art team is here to help with everything from layout and design to corporate branding and logo development. We can even help you add UPC and Bar Codes to your beer and wine labels, if needed.