Stay safe this October and review our quick list of Halloween Safety Tips For Kids before you go out Trick or Treating. Dressing up and going door to door for candy can be fun, just remember to stay safe by going out with a group of friends.
The fist thing you want to know is that by only trick or treating in populated and well lit areas you can avoid potential risks and hazards. You can stay safe by only trick or treating at the homes and businesses of people and neighbors that you know. Avoid knocking on the doors of homes with no lights on or residences that have side entrances.
It may sound silly, but look both ways before you cross the street. When crossing the road with little children, make sure to be extra careful. There are many people who are not paying attention and drive much too fast in residential areas. Whenever possible, use designated crosswalks for crossing the street.
Parents all know that you should wait until getting home before eating candy. However, younger children may need to be reminded no to eat any trick or treat candy until they get home. If you have kids that are going out to trick or treat, please go through their candy once they get home to make sure that everything is save.
When going through your haul of candy, discard immediately and throw into the trash any Halloween treats that may be opened or have damaged packaging. By avoiding unsafe looking candy and the homes of strangers, you can help your children stay safe.
When choosing a Halloween costume for kids, remember to keep visibility in mind. Avoid dark clothing and use bright colors to draw attention to your costume for added safety. If you are using dark colored costumes you can use a reflective tape or sticker to help increase the visibility. Neon colored fabrics and Glow in the dark paints are also a great way to help make your kid's Halloween costume safe this October. And don't forget take a flash light when you hit the streets after dark!
Does your Halloween Costume have a prop? Many local Halloween Costume stores have a variety of flexible, plastic props to choose from. When adding a Halloween prop to your costume, choose one that is flexible and safe. Children and adults should not run with any type of Halloween prop for safety purposes.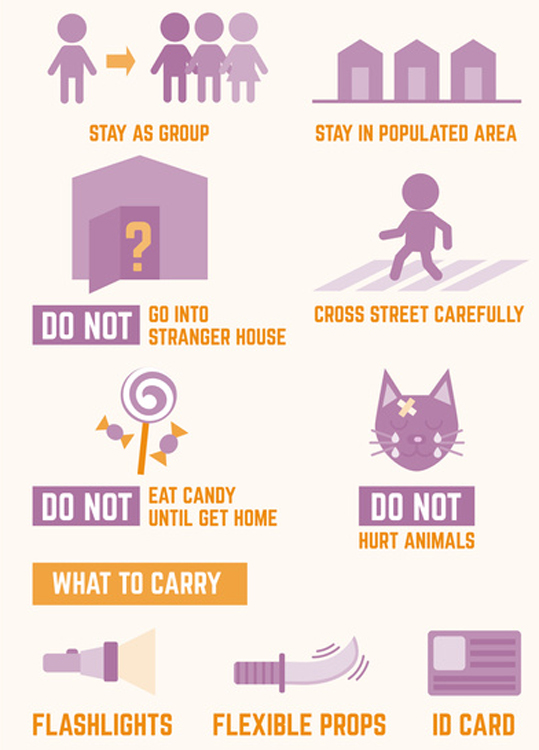 Remember, this quick guide of Halloween Safety Tips For Kids are only basic guidelines. Ultimately the safety of your kids is up to you this Halloween season. Please be safe when going trick or treating with your children or review this guide before sending them out on their own. Hart Mind Soul and the HMS nation encourage you to use this quick access guide to Halloween Safety as a resource to help keep your family safe and get the most out of your Halloween.
Finally, from everyone at Hart Mind Soul and the HMS nation, we wish you and your family a safe Halloween! Keep us in mind for all your holiday screen printing, embroidery and custom sticker needs. Click here to view our essential Holiday Wish List and start your holiday shopping early to receive FREE shipping!